Zane Gbangbola death: Post-mortem finds 'no clear cause' of death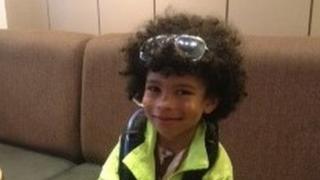 A post-mortem examination on a seven-year-old boy who died in a flood-hit town in Surrey has found no clear cause of death.
Zane Gbangbola died in hospital after he was taken ill at home in Thameside, Chertsey, on Saturday.
His parents, who were also taken ill at the house, remain in hospital, Surrey Police said.
Antony Hudson, headmaster at Zane's school in Weybridge, paid tribute to a "larger than life character".
Mr Hudson, from St George's Junior School, said Zane was known throughout the school.
'Shock of curls'
He added: "In fact, he was probably the best known pupil from the lower years amongst the upper years' children, due not only to his lovely shock of curls which made him visibly stand out, but far more importantly because he was a passionate member of the Green Committee, a cause he had clearly inherited from his parents.
"He was only at the junior school for a year and a half, but what a privilege for us all that what turned out to be the final chapter of Zane's life was spent amongst us here at St George's.
"Zane and his wonderful parents would want us to see this as an opportunity to grow closer together as a community, and to help us to put a lot of our everyday worries into perspective.
"To appreciate that life is a gift from God and that is very good, we must rejoice in it and appreciate it as a gift every moment of every day."
He said the school would be compiling a book of memories of Zane to present to his parents.
Zane's father Kye spoke to BBC Surrey in January after the River Thames burst its banks in Chertsey.
He criticised the lack of planning to prevent floods in the area, and said residents in properties along Thameside had all been pumping out water after their boundaries were breached.
People in the area have described seeing pipes coming from the family's house but it is not known whether a water pump was being used.
A Surrey Police spokesman said tests were continuing into the cause of Zane's death.
Officers have refused to be drawn on suggestions that carbon monoxide could have been to blame.