Fields flooded to divert Caterham Bourne from A22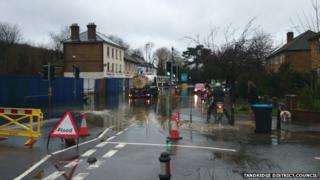 Fields are being flooded in a Surrey valley to divert flood water that threatened a water treatment works in nearby south London.
Tandridge District Council said the holding areas in Woldingham and Whyteleafe would slow down the flow of the Caterham Bourne.
The river has flooded roads and properties from Caterham to Kenley and closed the A22 for nearly three weeks.
Emergency services have been pumping water away from Kenley treatment works.
The Army has also been deployed to protect the site.
Automatic shutdown
The Sutton and East Surrey Water Company said the treatment works, which supplies 46,000 properties, continued to operate normally.
Spokesman Stuart Hyslop said flooding would have shut down the site.
"It would have either stopped the high voltage electricity supply, which would automatically have shut it down, or it would possibly have got into the treated water tanks and we would have had to close the plant down."
Croydon Borough Council said the A22 Godstone Road reopened from St James's Road to Hayes Lane at midnight.
Woldingham Road is closed because of "flood lagoons" near the railway viaduct, Wapses Lodge roundabout and Whyteleafe recreation ground.
Elsewhere in Surrey, Hythe Community Primary School in Staines has been unable to reopen after half-term because of contamination from flood water.
"A risk assessment by Surrey County Council has shown that the hard surfaces are contaminated," it said on its website.
"A deep clean is taking place over the weekend and school will be open as normal on Tuesday."
Thorpe Lea Primary School in Egham is also closed, with 170 children being bussed to the Royal Holloway University of London campus.
Head teacher Lesley Semper said the children would be taught in the Olympic Village, where rowing and canoeing competitors stayed during the London 2012 Games.
"It is going to be very, very exciting," she said.
"Calming them down for some education is going to be interesting."