Compton Cemetery gets Grade II-listed status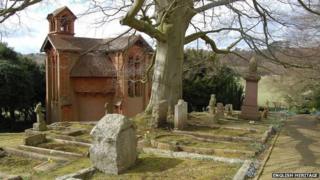 A Victorian cemetery on a hillside in Surrey has been given Grade II-listed status by English Heritage.
Designed by artist and designer Mary Watts, Compton Cemetery, near Guildford, was built at the end of the 19th Century.
English Heritage said it was the setting for a nationally significant group of Arts and Crafts buildings.
Its addition to the Register of Parks and Gardens will protect it from development.
Describing Mrs Watts as an "unusual woman for her time", an English Heritage spokeswoman said she "broke into the male dominated world of Victorian art" at a time when it was just opening its doors to female artists.
She also designed the Grade I-listed Watts Cemetery Chapel, built in 1896. The Watts Gallery, housing the artworks of her husband the painter and sculptor George Watts is nearby.
The cemetery's terracotta headstones, kerbstones and crosses were made by artisans from the Potters' Arts Guild, founded by Mrs Watts.
Veronica Fiorato, from English Heritage, described the site as "exceptional".
"It is very unusual to find a holistic group of Arts and Crafts buildings and gravestones of such quality," she said.
"Compton Cemetery conveys a freedom of spirit and character which spring from its talented creator Mary Watts and the villagers of Compton.
"It's a very special place."