Flooding effects still felt on reopened A22 Godstone Road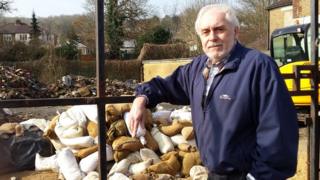 A main road in Surrey which was closed by flooding five weeks ago has reopened but some gardens nearby are still under water.
Jeanette Collins, who lives on the A22 Godstone Road in Whyteleafe, said her back garden was still under two feet of river water and sewage.
The A22 was closed on 5 February after the Caterham Bourne overflowed.
"We have been here 27 years and this is the second time it has happened - but this time was worse," said Mrs Collins.
"It is terrible - you can't describe it. It is an absolute nightmare.
"We are still not sure how much sewage water has gone under the house and until the insurance people come round and take up the floorboards we won't know what the damage is."
Tankers were pumping sewage and flood water away from homes on Monday and council workers collected sandbags from properties south of Hillbury Road no longer considered at risk of flooding.
The A22 is still closed at Kenley, north of the boundary with Greater London, where work continues to protect Sutton and East Surrey Water's treatment works.
Surrey County Council Highways Department spokesman Mark Borland said it could be the end of March before the road reopened completely.
"It is a main route but it is still very quiet," said John Painter, director of Wraysbury Tyres, whose business has been badly affected by the loss of passing trade.
He has made inquiries about the government's compensation scheme but does not yet know whether he will qualify.
The Caterham Bourne, which is normally dry in summer, flows through a culvert on a vacant site next to his premises.
Water from the river is currently being held in a series of flooded fields in nearby Woldingham, where the main road linking the village to the A22 is also closed.