The Queen celebrates Royal Holloway music award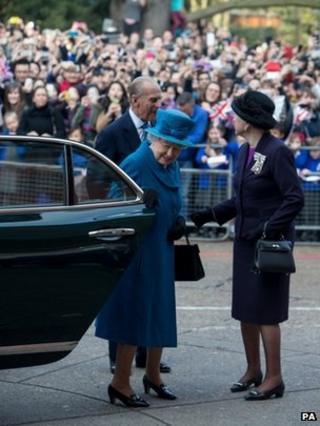 The Queen and Duke of Edinburgh have visited a university campus in Surrey to meet students and attend a music performance.
The royal visit to Royal Holloway, London University, was to celebrate the Diamond Jubilee Regius Professorship of Music, awarded by the Queen in 2013.
Crowds of students gathered to welcome the royal party to the Egham campus.
Musicians performed in the chapel before the royal couple met students and staff in the picture gallery.
The Queen unveiled a plaque to mark the visit and Regius Professorship and also signed the university's visitors book.
She was the first person to sign the book in 1986 when she inaugurated the merger of Royal Holloway and Bedford New College.
'Incisive questions'
A total of 12 Regius Professorships were awarded to university departments in recognition of their exceptional standards of teaching and research, to mark the Diamond Jubilee.
At Royal Holloway, Prof Julian Johnson was appointed Regius Professor of Music in April 2013.
He said the Queen asked his colleagues "very incisive" questions and he described the visit as "a tremendous success".
University principal Prof Paul Layzell said the monarch was "very relaxed" and added: "She talked to everybody."
He described her as a very knowledgeable woman who could hold a conversation with a huge cross-section of people.
During the visit, Prof of Geography David Simon said he told the Queen about his field, which involves working with predominantly poor, marginalised people, particularly in Africa.
He said they also discussed the recent floods in England.
Professor Simon said the Queen told him: "Poor people and their problems don't get reported often, and they need all the assistance they can be given."