Surrey potholes make drink-drivers 'hard to spot' say police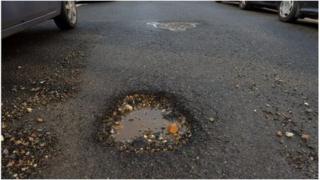 Potholes caused by floods have made swerving drink-drivers "difficult to spot", say Surrey Police.
Insp Richard Mallett, head of the force's roads policing unit, said sober drivers were forced to weave around potholes, masking the erratic behaviour typical of drink-drivers.
He added that the current conditions of the roads were a "concern".
Surrey County Council said it has had to cope with about 21,000 potholes caused by flooding.
Speaking to BBC Surrey, Insp Mallett, said: "Yes, the conditions of the roads are a concern because there is a likelihood of it causing crashes, but people need to take some responsibility when they're behind the wheel.
"Anecdotally, it makes it more difficult for us to spot the drunk drivers as everyone is weaving about around the potholes."
John Furey, council cabinet member for transport, highways and environment, said the flooding Surrey had experienced had made it a "horrendous time" for potholes.
"The flooding has been amazingly bad [for the roads] simply because of the extent of it," he said.
"We're worried about road safety, and immediately we went into the recovery stage after the floods went down.
"Every inspector in the county went out to inspect the roads as an immediate and urgent issue."
He said that the council had started to deal with the problem.
"Remember, we're only 10 days away from the flooding," he added.