Repair of River Mole flood alleviation scheme completed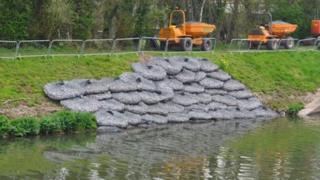 Repairs of a flood alleviation scheme in Surrey have been completed following damage over the winter.
The banks along the Lower Mole Flood Alleviation Scheme, in West Molesey, were damaged by turbulent waters.
The Environment Agency has lifted 250 large mesh units, filled with stone, to patch up parts of the river bank.
It said a programme of work to carry out long-term repairs to the banks of the River Mole will take place later in the year.
Tim Connell, from the agency, said: "Last winter was the wettest England has faced since 1766, and Surrey received an extraordinary amount of rainfall.
"The flows on the River Mole over the winter were probably the highest the West Molesey area has ever experienced."