100th anniversary of Titanic hero Jack Phillips memorial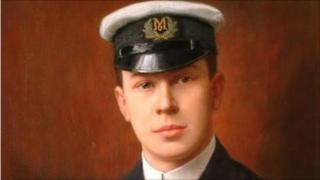 The 100th anniversary of a memorial cloister built to commemorate the chief wireless operator on the Titanic has been marked.
Jack Phillips, from Farncombe, remained at his post sending out distress messages while the ship sank.
A memorial to him was built in Godalming two years after he died and was paid for by public subscription.
It has recently been refurbished with funding from the National Lottery and Waverley Borough Council.
Titanic sank when it struck an iceberg on its maiden voyage from Southampton in April 1912.
A walk was held earlier to mark the memorial's construction, which took people to places in Farncombe and Godalming where he spent his youth.
The refurbishment in 2012 cost £400,000 and was carried out in time for the centenary of the sinking.
Councillor Julia Potts, who is responsible for parks and leisure at Waverley Borough Council, said: "The respect the people of Godalming and surrounding areas must have had for the actions of Jack Phillips were demonstrated through their generosity in funding the memorial in less than two years."