Elstead pub reopens after Christmas floods hit Surrey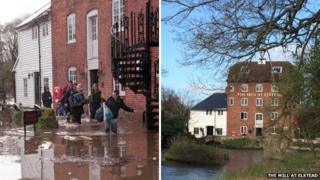 A pub that was devastated during severe flooding in Surrey on Christmas Eve has reopened.
Extensive work was needed at the Mill which sits on the banks of the River Wey at Elstead, near Godalming, after the water subsided.
Landlady Georgia Watts said burglars targeted the empty residential area of the closed pub on 3 January, when staff were staying in a hotel.
She said the floods hit very suddenly and the pub was inundated within hours.
The pub had lost power the day before and the phones were cut off - Mrs Watts had to drive to a supermarket car park in Godalming to get a mobile phone signal so she could cancel all the pub's Christmas reservations.
'Completely destroyed'
"My husband phoned me half an hour later and said 'you've got to get back because if you don't get back now you're not going to be able to get back'," she said.
Within an hour, everything was underwater, Mrs Watts added.
"It was heartbreaking," she said. "You stood there and there was nothing you could do to stop this water coming in."
Mrs Watts said she and her husband had to leave their cottage at the pub and staff left the staff block, but burglars targeted the property 10 days later.
Thieves cleared out valuables that had been moved upstairs away from the flood water and they even took pillow cases to carry the stolen items, she added.
"They came in, broke the window and then ransacked upstairs. Downstairs was destroyed completely, so they thought 'we'll go upstairs and take everything'," she said.
Mrs Watts said she and her husband reopened their pub at lunchtime on Monday after nearly four months of refurbishment.
"We weren't meant to open until five o' clock in the evening, but we thought 'well, let's just open and go in gently' and everyone just came flooding in."