Appeal Court overturns Cherkley Court planning decision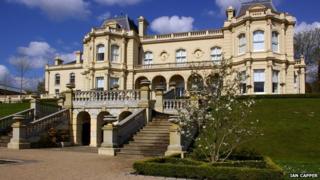 The former home in Surrey of press baron Lord Beaverbrook can be turned into a hotel, spa and golf course, the Court of Appeal has ruled.
The High Court had previously quashed planning permission for Cherkley Court near Leatherhead amid local opposition.
The decision was overturned after Mole Valley District Council appealed.
Developer Longshot Cherkley Court said it looked forward to pressing ahead with "this precious site of historic and environmental importance".
It said it was confident that Cherkley "has an exciting future which will honour the building's history, protect the precious landscape and ensure that this unique location is enjoyed by many people for many generations to come".
Green Belt
The £50m redevelopment will create up to 200 jobs across all the estate's facilities.
The plans for Cherkley Court, which were approved in 2012, were opposed by the Cherkley Campaign and the Surrey branch of the Campaign to Protect Rural England, which believed the proposals would affect the green belt landscape of the North Downs.
They also said there were already 141 golf courses in the county.
In a hearing on Wednesday, Lord Justices Richards, Underhill and Floyd unanimously agreed that the quashing order and costs order should be set aside.
High Court judge Mr Justice Haddon-Cave had ruled that there was no "need" for the high-end golf course, which would have a membership restricted to approximately 400 members.
He found that the council, in approving the development by a majority of 10 to nine councillors, were guilty of "at best paying lip service to green belt policy" but not applying it properly.
'Special circumstances'
However, allowing the appeal, Lord Justice Richards said: "I see no reason in principle why a planning policy should not lay down a requirement of need which is capable of being met by a private demand for the facility in question.
He concluded that "very special circumstances clearly outweighed the harm", including economic benefits to the area and facilities for visitors.
Yvonne Rees, chief executive of Mole Valley District Council, said the appeal raised a number of important planning principles "of significant interest" to other planning authorities, with the decision reinforcing the validity of the decision-making process the council undertook.
Lord Beaverbrook, who owned the Daily Express and was a minister in Winston Churchill's wartime government, lived in the Grade II-listed house from 1911 until his death in 1964.
It was opened to the public in 2007 following the death of his widow in the 1990s but closed in 2009.