Two found guilty over £45,000 Tattenham Corner robbery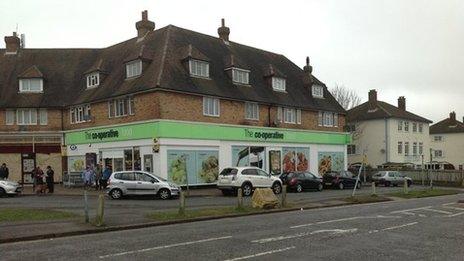 Two men have been found guilty of a £45,000 cash-in-transit robbery outside a Co-op in Surrey.
A driver was assaulted and threatened in the raid at Tattenham Corner, near Epsom Racecourse, in January last year.
Terrance Clark, 50, and Lewis Clark, 27, both from Battersea, south London, were convicted of conspiracy to commit robbery and possession of a firearm or imitation firearm.
The father and son will be sentenced on 13 June at Guildford Crown Court.
Driver James Smith lost his front teeth and needed bone grafts and implants, police said.
When he was taken to hospital, his wedding ring had to be removed because of swelling. He has not been able to wear it since.
Mr Smith, who served for 24 years in the army, said he had received extensive training about what to do during a robbery but added: "The events of that day happened so quickly I was unable to act."
In a statement issued through police, he said: "No amount of training could ever prepare you for that experience.
"It is unbelievable how quickly your life can change. The little things you once took for granted are taken away from you at no fault of your own."
Det Ch Insp Paul Rymarz said Mr Smith had to relive the events of the morning including the moment when the trigger was pulled but the weapon did not fire.
He said Mr Smith's security helmet filled with blood and fragments of his teeth were seen on his clothing after he was "pistol-whipped".
Both defendants had travelled to Tattenham Corner on 30 January with the sole intention of carrying out an armed robbery, Mr Rymarz said.
Events unfolded when a stolen Chevrolet circled the shops three times waiting for a cash delivery to be made, he added.
Mr Smith was hit with what was believed to be an imitation firearm before the pair left with a cash box containing about £45,000 in £20 notes, he said.
He said the court heard Lewis was seen spending quantities of £20 notes in designer shops in the weeks after the offence, and Terrance had planned a new kitchen and other improvements at his home worth £5,000.
In his defence, Lewis claimed he had made the money from dealing in cannabis and amateur boxing, Mr Rymarz added.
But he said: "Neither Terrance or Lewis have shown a shred of remorse for this horrific crime, which was committed for no other reason other than pure greed."
And he added: "The cash delivery industry offers a valuable service and innocent men and woman who are just going about their every day job should not have to live in fear."
Related Internet Links
The BBC is not responsible for the content of external sites.