Further Woldingham and Whyteleafe flood relief work planned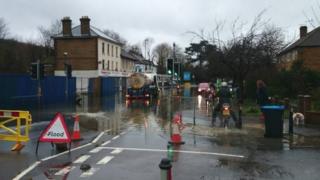 Work to protect Woldingham and Whyteleafe from floods is to continue over the summer, a Surrey council has said.
Four emergency reservoirs were built in Woldingham after floods in February.
The temporary reservoirs were used to slow and divert the Caterham Bourne river from about 450 homes, the A22, and the Kenley waterworks.
Details released by Tandridge council said two out of three permanent water storage areas were close to completion.
Under the Surrey County Council scheme, about 10,000 cubic metre water capacity has been created so far, with a further 10,000 cubic metre capacity to be created this month, to mitigate the impact of future floods.
Planned work over the summer will see continuing work on the permanent storage areas with construction of three sluice gates to control water flow, and resurfacing of Woldingham Road which has been raised so a pipe can be installed underneath.
Further investigation work will look at how to upgrade drainage in the Whyteleafe area.
From October, subject to the award of £1m government cash, Surrey Highways and Croydon council will build additional storage capacity and further drainage.