Kingswood Warren villagers in 'royal' property row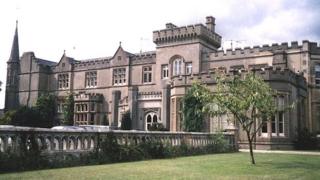 A row is brewing in a Surrey village between residents and mystery buyers who have bought six multi-million pound houses on an exclusive estate.
Neighbours are angry the new owners, rumoured to be Middle Eastern royalty, want to put 6ft (1.8m) fences around the homes in Kingswood Warren Park.
Janine Connick, from Hamilton Place Residents Association, said work began without any thought for people nearby.
Reigate council confirmed work began without planning consent.
Developer Octagon, which sold the properties, describes Kingswood Warren Park as a grand estate with a mansion that was once home to Victorian MP Thomas Alcock and more recently the BBC's research department.
Ms Connick said a 6.5ft (2m) chain-link fence had gone up above an 8ft (2.5m) wall, and residents hoped the council could stop more railings being erected.
'Buyer paid cash'
The estate is about three miles from Epsom racecourse.
But Ms Connick said Kingswood Warren Park was a small community and added: "It very much sounds like they [the buyers] are only going to come here for one week a year, for some racing, and the rest of the time the properties are going to be empty."
Reigate council said: "We have received an application which is under consideration and some revisions are expected.
"We can confirm some works commenced in advance of the application being considered but ceased on our instruction."
BBC reporter Carolyn Sim said: "There are rumours the buyer is a well-known sheikh who is a member of a Middle Eastern royal family."
Adding that four houses were worth £3.5m, she said: "We don't know anything official about the buyer of these six mansions because the developers Octagon have already signed a confidentiality agreement.
"But whoever the buyer is, they were in a position to pay cash."