Fears over funding for Surrey's Magna Carta celebrations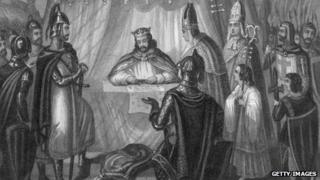 Surrey County Council says it does not know how 800th anniversary Magna Carta celebrations will be paid for if a Heritage Lottery Fund bid fails.
The council is bidding for more than £4.3m to fund events and attractions to mark the sealing of the document by King John at Runnymede in 1215.
The authority said it wanted to ensure Runnymede was the focus of the national celebrations in June 2015.
Councillors have criticised the plans for lacking detail and clarity.
At a meeting of the county council's community committee, Helyn Clack, Conservative councillor for community services, said: "We still don't know how the big event is going to be funded.
"Our commitment is £1m to the new piece of artwork, the legacy of the area and to making sure that there is a long-term visitor opportunity here."
Magna Carta 'gateway'
At the meeting, Lib Dem councillor, John Orrick, said: "My real concern is about what happens if we don't get the other [Heritage Lottery Fund] money? Do we still have a viable programme that is on offer?"
Egham is to be branded "the gateway to Magna Carta country" under plans approved by Surrey County Council.
Magna Carta, meaning Great Charter, was agreed at Runnymede in 1215.
The Conservative-led authority is to contribute £1m to the £8.3m estimated cost of a local Magna Carta anniversary celebration.
Jan Mason, Residents' Association and Independent, said: "I really worry. We've got 12 months. I think we would be really amazed if we actually get this on time."