County show foots bill for Guildford park damage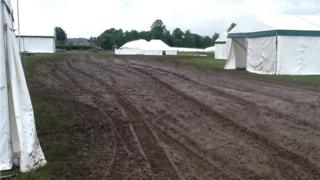 Organisers of the Surrey County Show have pledged to repair damage caused to a park in Guildford in time for a music festival in July.
Heavy rains and 24,000 visitors on Monday caused much of Stoke Park to be churned up.
The town's main festival, Guilfest, is taking place in the park on 18-20 July.
Sonia Ashworth, chief executive at Surrey County Agricultural Society, said they had been "throwing money" at the problem to fix it it in time.
She said: "I was amazed that 24,000 people came along to enjoy it, no matter what the weather.
"What we desperately need is some time and sun to dry it out.
"We're going to work out hardest - we've been throwing money at it and we will continue to do that and use our reserves to get this looking tip-top.
"We want to get the park back for the general users as well as Guilfest and we have a team on stand-by who are just waiting for the right weather."
Guilfest is being headlined by The Boomtown Rats and Kool and The Gang.