Cobham Free School: Secondary plans 'to go ahead'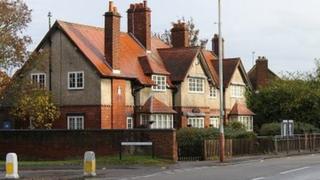 A free school in Surrey has said its plans to provide secondary education will go ahead in September, after the developer of a new site pulled out.
Cobham Free School has been running as a primary for almost two years and gained government approval for "all-through" status last year.
Cala Homes has pulled out of plans to build new premises, citing problems agreeing terms with the landowner.
The proposals are for land at Chippings Farm off Portsmouth Road in Cobham.
The school, based in the old police station on Portsmouth Road, has been working with Cala Homes to prepare an outline planning application for a new development including 500 new homes on the green belt land.
A school spokeswoman said the three-form secondary school, with 72 pupils, would go ahead on the same site as the primary for the first year, as originally planned.
Some 115 pupils attend the primary school.
The spokeswoman said: "We are pleased to report that we are on track for opening in September.
"We're looking forward to welcoming our first cohort of Year 7 pupils who will be based at our Portsmouth Road site for the first year of operation."
Under the original plans, Years 3 to 13 were to go to the new site at Chippings Farm from 2015 onwards.
A spokesman for the developer said it had difficulties agreeing terms with the landowner, and that there was also concern about the number of different groups and agencies involved.
The school spokeswoman said: "We will release information regarding our permanent site once we are in a position to do so."