Mystery of the cars being moved along Woking's roads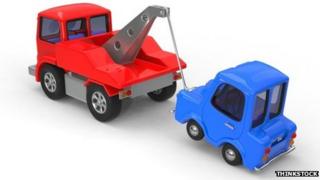 Three car owners in the same town have found their locked vehicles mysteriously moved to different locations.
Over four days the cars in Woking were shifted to a new position with no indication of why or how they had been moved. Nothing was taken from the cars.
Witnesses reported seeing a red 4x4 truck in the area on one occasion.
Baffled police said they had no idea why the cars had been moved but called the episodes "strange".
'Screeching and horns'
They have appealed to be contacted by anybody who had "noticed a larger vehicle towing cars up the road".
Last Thursday, a woman heard "screeching and car horns" outside her home.
When she went outside to investigate, she found her blue Peugeot blocking traffic in the middle of Robin Hood Road, 50ft (15m) from where she had originally parked it.
The vehicle had some damage to the back but the handbrake was on and the car was locked.
On Saturday, a green Peugeot with a broken engine vanished from a communal car park at the back of Woking College where it had been waiting to be scrapped.
It was found the following day by police dumped several miles away on the A322 in Bagshot.
Later on Sunday, the owner of a white Ford Fiesta found their locked car 100 yards (91m) from where it had been left on Sundridge Road.
It had hit a post but nothing had been stolen from the vehicle.