Surrey small businesses 'face flood insurance struggle'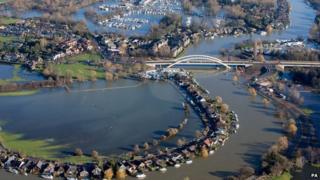 Small businesses hit by the winter floods in Surrey are struggling to find affordable insurance, a report found.
The survey compiled by the British Insurance Brokers' Association that was leaked to the Financial Times found some businesses had seen premiums rise from £2,000 to £25,000.
Firms have called on the government to make the flood insurance market fairer.
Insurance companies insist all small businesses have access to a competitive flood insurance market.
There have been calls for firms to be included in the government's Flood Re scheme which was primarily set up to assist homeowners affected.
'Painful and difficult'
John Blauth, who owns a copywriting company in Guildford, said his firm has not been able to get adequate insurance since the floods.
The firm suffered £12,500 worth of damage to the building and its contents during floods over Christmas - but stressed its offices are not sited on a flood plain.
However, the company's existing insurer refused to provide cover while its new insurer excluded flood damage from the policy.
Ian Fletcher, of the British Property Federation, said brokers working on behalf of companies had found "problems" because the flood insurance market for small businesses "is not there".
He called on the government to include the group in the Flood Re programme, which will be introduced next year so they could have access to more affordable insurance cover.
'No issue'
Currently, small businesses, landlords, people renting in the private sector and those who own Band H properties are not included in the scheme.
Malcolm Tarling, of the Association of British Insurers, which helped develop Flood Re with the government said there was not enough evidence companies could not find adequate flood insurance.
He insisted homeowners were the main group at risk of not having access to affordable flood insurance and so required the most assistance.
The scheme "aims to tackle the problem where it is at its most acute", he added.
A spokesperson for Defra said insurance companies had told the government there were no issues with small businesses and leaseholders having access to flood insurance.
The flood insurance sector will continue to provide insurance on a competitive basis, the spokesperson added.