Surrey County Council pay rise shows 'contempt for hard-working families'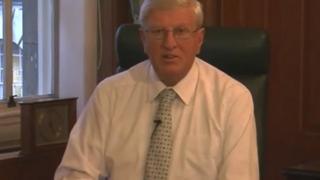 Surrey County Council has shown "contempt for hardworking families" after Conservative councillors awarded themselves a 60% pay rise, a government minister says.
Local government minister Brandon Lewis MP, said the rise - which went against proposals from an independent panel - was "deeply concerning".
The panel resigned after their proposals were ignored.
A council spokesman said allowances had not been reviewed for four years.
The ruling Tory group gave a 59% pay rise to leader David Hodge, taking his allowance from £27,000 to £43,000 instead of the recommended £35,548.
His deputy's pay rose by 60% from £19,500 to £31,250 instead of the recommended £30,333.
Mr Lewis's comments came in a letter written to Liberal Democrat county councillor Hazel Watson and the Conservative leader of Tandridge District Council, Gordon Keymer, who both complained about the rise.
'Show restraint'
It read: "It is deeply concerning that the county council has chosen to act in a way which has not only prompted the resignation of their entire independent remuneration panel, but shows contempt for the hard-working families of the area who pay their council tax.
"Of course, setting allowances is a local matter for the council concerned.
"But particularly given the pay freeze that local government workers have faced in recent years, the government expects those in public life to show restraint."
He added: "The way in which the council has managed this process clearly leaves a lot to be desired."
Ms Watson said she was "delighted" with the response from Mr Lewis.
She said: "The Conservative administration at county hall is living in cloud cuckoo land if they think that they can get away with these outrageous councillor allowances.
"It is time for them to back down and admit they made a massive mistake to the detriment of Surrey residents."
A Surrey County Council spokesman said: "The government has given county councils 42 new responsibilities since 2010 and these have increased the workload for the cabinet and other senior councillors.
"There has been no review of allowances for four years and while that was the right thing to do at the time it is now important that they are adjusted to reflect increases in roles and responsibilities."