RHS Wisley plant specimens to go online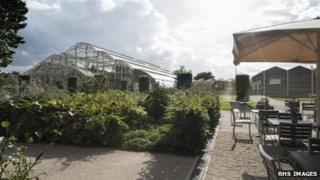 One of the world's largest collection of preserved garden plant specimens is being digitised by the Royal Horticultural Society (RHS).
The aim is to give gardening experts around the world online access to the 80,000 specimens kept in the herbarium at the RHS's garden at Wisley, Surrey.
"We want it out there so that anybody can see the collection," said principal scientist Christopher Whitehouse.
"There are experts around the world who would love to be able to see it."
As well as dried and pressed plant material, Wisley has thousands of drawings, paintings, prints, slides and digital photographs.
Behind the scenes
"The botanists at Wisley and experts on garden plants from around the world come and visit," said Mr Whitehouse.
"They use it for identification and getting to know the plants.
"Most people come to Wisley and see all the lovely, wonderful flowers growing in the garden but behind the scenes we also have this collection."
Mr Whitehouse said the whole collection would be available online in about five years' time.
The RHS is also planning a new science and learning centre at Wisley, along with a new herbarium and library.
It is part of a £100m investment programme by the society over the next 10 years.