Sherlock Holmes: School hopes for Conan Doyle house at Hindhead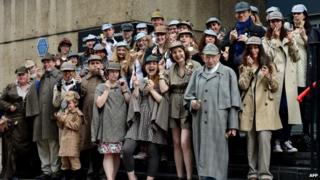 A charity has applied for permission to turn the former home of Sir Arthur Conan Doyle into a school for children with disabilities.
Undershaw at Hindhead in Surrey, where Conan Doyle wrote The Hound of the Baskervilles and The Return of Sherlock Holmes, has been empty for 10 years.
It was bought in March by the DFN Foundation for Stepping Stones school.
The foundation wants to convert the Grade II listed building into a senior school for nearby Stepping Stones.
Cheerful environment
Undershaw was designed by Conan Doyle in line with the medical needs of his wife Louise, who had tuberculosis.
The DFN Foundation said it would provide a spacious, bright and cheerful environment for the children.
"There is an urgent need to repair damage to the roof and internally and that is a priority of the school once it obtains planning permission," said planning consultant Andrew Bandosz, speaking on behalf of DFN.
"We feel this is an opportunity for the school to restore the building and put it to a particularly worthwhile use."
A previous developer wanted to demolish the 1897 property and build flats and was granted planning permission by Waverley Borough Council.
Campaigners Undershaw Preservation Trust went to the High Court and successfully overturned the plans and the property was put on the market for £1.25m last year.
Mr Bandosz said Stepping Stones, DFN and the preservation trust had held fruitful talks about the restoration.
Last month the trust took part in a bid to set the world record for the number of people dressed as Sherlock Holmes to raise funds to restore features such as the stained glass windows.
The trust said the sale of Undershaw to DFN was great news.
Mr Bandosz said he hoped Waverley council would grant permission for change of use in September so restoration could begin as soon as the sale was finalised.