Surrey Police plea as Albury burglary nets £80,000 haul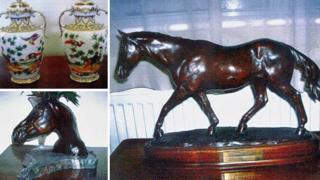 Thieves have stolen antiques and silverware worth more than £80,000 from a house in Albury.
Burglars forced entry into the house in Chilworth Road and made off with their haul, in what Surrey Police described as an "audacious" crime.
The offenders took sculptures, ornaments, tableware, clocks and china.
Det Con Dan Chant said a man was seen running near the house and a Ford Transit van also seen on Wednesday is thought to have driven towards the A25.
He said the numerous valuable items were sentimentally and financially important to the owner, and urged anyone who saw anything suspicious that afternoon to contact the force.