Waverley Council looks at green belt housing plans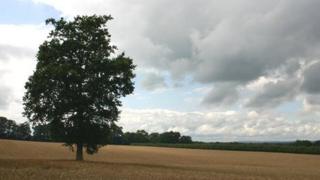 Consultation on building nearly 8,500 homes in part of Surrey is to go ahead, Waverley Borough Council has said.
Four scenarios have been put forward, which would all see houses built on green belt sites in Farnham, Godalming, Cranleigh, Haslemere and some villages.
Council papers said a review had recommended four villages were removed from the green belt - Chiddingfold, Elstead, Milford and Witley.
Three options include building on Dunsfold Aerodrome, a brownfield site.
The council is looking at building 470 homes a year from 2013 to 2031, to provide 8,460 in total.
Liberal Democrat campaigner Patrick Haveron, said the plan pitched towns against villages and he called for more housing on Dunsfold Aerodrome, to prevent green belt development.
'Infrastructure worries'
Andy McCleod, from the Farnham Society, said Farnham and Cranleigh were being asked to take a disproportionate housing share under some options and development should be "appropriate and proportional".
Leader of the Conservative-run council Robert Knowles said four scenarios had been put forward amid worries about infrastructure.
"We have to see if it's sustainable," he said. "Where is the traffic going? Where is the water supply coming from? And building schools? Sustainability is vital. We need to look at that."
Dunsfold Park said it was pleased to be included and had wanted a mixed-use development on the aerodrome. Housing plans there were turned down in 2008.
In a statement, it said: "We will aim to assist Waverley in meeting their housing needs and at the same time, address infrastructure, affordable housing and road and transport links."
The council said the consultation would start next month.