Sleeping lion created for Surrey Police memorial garden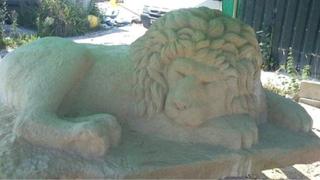 A stone sculpture of a sleeping lion has been created as a centrepiece for Surrey Police's memorial garden.
Somerset sculptor Tom Kenrick, 32, spent nine weeks carving the life-size artwork, which weighs about two tonnes, out of Bath stone.
The force commissioned the lion for a memorial garden being created at its Guildford headquarters, in honour of colleagues who died.
The project has been funded entirely by voluntary contributions.
Surrey Police said the garden was designed to provide a space for staff to remember colleagues who have contributed to policing in Surrey or to take a quiet moment of reflection.
The idea came from officers and staff who wanted a central place for a memorial.
Donations have come from Surrey Police Federation members, members of the union Unison, Chief Constable Lynne Owens, the Surrey Police and Crime Commissioner Kevin Hurley, an external sponsor and retired staff.
Mr Kenrick, who describes his work as inspired by nature, said the lion was intended to represent peace and tranquillity.
He has not revealed how much the commission cost but said the stone was worth several thousand pounds alone.
The plaque by the sculpture reads: "In memory of all those who have contributed to policing in Surrey."
Surrey Police said volunteers were still working on planting the garden, and its official opening would take place next spring.