Guildford's Royal Surrey County Hospital parking fight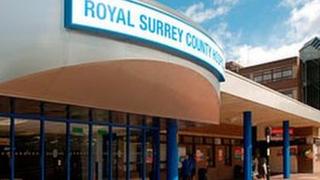 A hospital facing "unacceptable" parking pressures has been told it cannot use a park-and-ride site about a quarter of a mile away.
The Royal Surrey County Hospital in Guildford plans to create nearly 600 more spaces, but also asked if it could use the council's Onslow park-and-ride.
The borough council said it could not allow this under current regulations.
Last year, The Care Quality Commission raised concerns the lack of parking was delaying outpatients' appointments.
Park-and-ride 'half-empty'
Alf Turner, the NHS trust's director of organisational transformation, said the hospital currently had 530 visitor spaces but daily demand included 1,000 outpatient visits, 200 A&E visits, and hospital visiting for about 500 inpatients.
He said visitor and patient parking had "unacceptable" peaks mid-morning and mid-afternoon.
The hospital had about 1,100 employee spaces, with about 2,000 workers on site at any time.
He said the hospital could put about 100 spaces on its old helipad, 50 to 75 around the hospital by removing double yellow lines, and 400 on a temporary car park depending on planning permission.
He said the council was supportive, but added: "What's really difficult to explain to our governors, to our patients, to our employees, is that they see a car park up at Onslow which there's been a major investment in, and for large chunks of the week it's half-empty."
In a statement, Guildford council said: "The current planning consent and lease terms for the Onslow park-and-ride site do not allow it to be used for anything other than its current function."
The council said the park-and-ride was to reduce town centre congestion and air pollution and make access easier for shoppers and visitors.
It said: "We sympathise with the parking issues that affect staff and visitors to the hospital and are keen to work proactively with the hospital to find a solution."