Thundry Meadows riverbank strengthened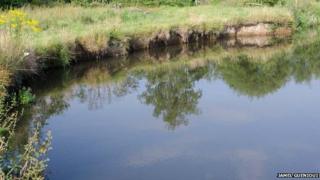 Work to strengthen river banks and reduce flooding has been carried out at a nature reserve in Surrey.
Thundry Meadows in Elstead is flooded every winter by the River Wey, which forms the reserve's southern boundary.
The erosion of the riverbank can cause difficulties for livestock and vehicles, Surrey Wildlife Trust said.
The trust said the work had included binding the soil together to reinforce the banks and adding groynes to deflect the water flow.
Ranger Jamel Guenioui, from the trust, said: "After a few winters of heavy rain, flooding, and much erosion it's great to see the bank protection at this particular location in place.
"The new stability should provide suitable conditions for a higher diversity of marginal plants."