Burford Bridge Hotel reopens after Surrey floods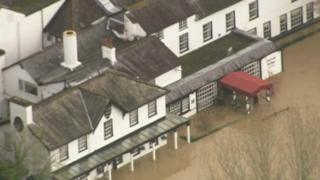 A hotel that had to close when the River Mole flooded in Surrey at Christmas has reopened.
Burford Bridge Hotel flooded within hours of staff hearing the river could burst its banks. People were rescued by boats and cars were left underwater.
The hotel has since had a revamp with steps taken to make the 760-year-old building more resistant to flooding.
It comes as residents and businesses across the county are urged to prepare for floods happening again.
Jonathan Sheard, from the Accor group, which runs the Mercure hotel near Box Hill and Dorking, said: "In a matter of hours of us all being warned the river could risk breaking its banks, a couple of hours later it actually happened."
"Throughout the renovation, we obviously worked with the local authorities and also our construction teams to ensure that if it happens again we don't have the trauma of being closed for nearly nine months," he added.
'Essential event'
Other residents and businesses in Surrey are also being urged to take steps to prepare for similar events happening again.
In Runnymede, which is next to the River Thames, a "flood fair" will be held on 30 September so people can raise concerns and get information to help them if flooding reoccurs.
Runnymede council chief executive Paul Turrell said: "Parts of the borough are susceptible to flooding therefore this is an essential event for anybody who could be affected.
"Floods can have a severe effect on the community but working together, we can create a strategy whereby we are better prepared to handle a crisis in the future and minimise the damage caused."
Surrey County Council, the Environment Agency, Thames Water, the National Flood Forum and Surrey Police will all have representatives at the fair.