Conan Doyle house plans considered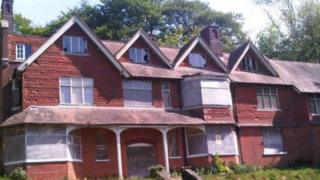 Plans to turn Sir Arthur Conan Doyle's former home into a school for children with disabilities are to be considered.
Waverley councillors have been advised to approve plans by the DFN Foundation to change the use of the building.
Conan Doyle wrote The Return of Sherlock Holmes and The Hound of the Baskervilles at Undershaw, in Surrey.
Campaigners have objected on the basis that these plans will be followed by proposals for "a massive extension". The DFN Foundation has not commented.
John Gibson, founder of the Undershaw Preservation Trust, claimed future proposals would include extending the building in Hindhead, and "ripping out" Conan Doyle's stables and well.
He has fought a long-running campaign to highlight the building's literary connections, including Dracula author Bram Stoker.
"We're happy with the school if it's just going to use the house - but to build a massive extension on it, when the whole raison d'etre of this house is its view.
"Bram Stoker [described] its beautiful isolation and never-ending sea of greenery. All to be destroyed."
Papers submitted to the planning committee said the plans would see the Grade II listed building, formerly used as a hotel, become an upper school for the nearby Stepping Stones School.
Conan Doyle's former study would be the head teacher's office and restored to how it looked in the author's time.
The ground floor would be offices and a computer room.
On the first floor, four bedrooms would be classrooms with Conan Doyle's wife's bedroom used as the library to keep the archway feature.
The plans would see the coach house become caretaker accommodation and the garage and stable area would be used for storage.
English Heritage has supported the proposal but has recommended the council check whether alterations or extensions will harm the building's significance.
Council officers said Undershaw needed major restoration and the plans would ensure its future upkeep and facilitate restoration.
Waverley council said at present only one application for the building had been submitted.