Al-Hilli murders: Flowers laid in memory of killed family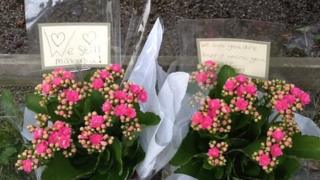 Flowers have been left outside the home of a British family shot dead in the Alps in 2012, to mark two years since the killings.
Saad al-Hilli, 50, an Iraqi-born British citizen, was found dead in his BMW car; his wife Iqbal, her mother and a French cyclist were also killed.
Mr and Mrs al-Hilli's two daughters, aged seven and four at the time, survived the attack near Lake Annecy.
A card on one of the bouquets reads: "We still miss you."
Another, at the gate of Mr and Mrs al-Hilli's home in Claygate, Surrey, says: "We hope you are happy where you are."
Motive remains elusive
The couple and their daughters, Zainab and Zeena, were on holiday at the time of the attack, along with Mrs al-Hilli's mother, Suhaila al-Allaf, who lived in Sweden.
The body of the cyclist, Sylvain Mollier, was found shot dead nearby.
The motive for the shootings has remained elusive.
More than 100 police officers in France and the UK have been involved in investigating the case but no-one has been charged.
Mr al-Hilli's brother Zaid, 55, was arrested on suspicion of conspiracy to commit murder in June 2013 but Surrey Police freed him from bail earlier this year because they said there was not enough evidence to charge him.
A 48-year-old man from the Haute-Savoie region in France was also arrested in February in connection with the shootings but not charged.
Speculation has focused on possible links to Iraq or Saad al-Hilli's work as a satellite engineer.