Frimley Park eye injury paramedic recovering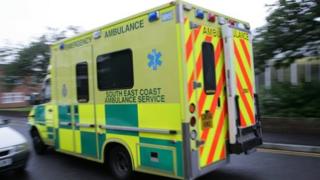 An ambulance driver who was injured when the windscreen of the vehicle shattered is recovering at home.
The paramedic was treated at Frimley Park Hospital for eye injuries after the ambulance was damaged on the A325 in Surrey at about 18:30 BST on Monday.
Surrey Police initially believed an object was thrown or fired at the ambulance, which had a patient aboard.
But Det Insp Martin Goodwin said it was probably the result of another vehicle throwing up a stone or another object.
Escaped unhurt
The injured paramedic's crewmate and the patient, who was being transported to Frimley Park, escaped unhurt.
"We have carried out a number of enquiries and have studied CCTV footage from the ambulance and from the vicinity and there is no sign of anyone acting suspiciously," said Mr Goodwin.
"Having examined the damage to the windscreen more closely, my conclusion is that it is more likely to have been caused by another vehicle throwing up an object."
South East Coast Ambulance Service said the vehicle was able to continue on its journey after it was damaged.
The trust said the ambulance was on a routine journey without lights or sirens.