Surrey flood-hit families miss deadline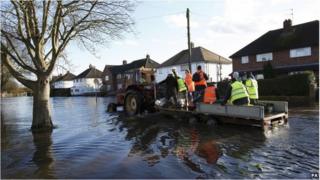 Flood-hit Surrey residents who have struggled to get their homes repaired will now miss a deadline to apply for a government flood protection grant.
Residents were supposed to apply to Surrey County Council (SCC) by Tuesday, so the council could send final figures to the government by the end of March.
But the council said a number of people would not meet the deadline.
It said people could still apply for grants and it would seek an extension. The government has not yet commented.
A council spokeswoman said the council administered the Repair and Renew scheme, according to Defra's requirements.
She said: "We are currently asking the Secretary of State for the Environment to extend the deadline for applications, as it has become clear that a number of eligible households will not be able to meet it."
'Companies inundated'
She said some people were only now returning to their homes or had yet to do so.
Others had struggled to get a response from the limited number of specialist companies that provided flood resilience services - which have been inundated, she added.
"We will take applications after the deadline and hope we can can get them through the process in time," the spokeswoman said.
She said the authority was talking to Defra "as a matter of urgency" about changing the deadline.
Last week it emerged about 40 families in Egham were still waiting to return to their homes, with some potentially unable to return at all