Designs for school in Sir Arthur Conan Doyle's house revealed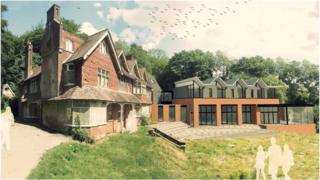 Detailed plans of how Sir Arthur Conan Doyle's former home will look when it is converted into a school for children with disabilities have been revealed.
Waverley Borough Council approved change of use plans to turn Undershaw, in Hindhead, Surrey, into a school in early September.
Plans to include a modern extension to the property have yet to be approved.
Conan Doyle wrote The Return of Sherlock Holmes and The Hound of the Baskervilles at the property.
David Forbes-Nixon, from the DFN Foundation which is behind the plans, said: "It looks like a school, Conan Doyle's wife was disabled - these are disabled kids coming down - so it would be a perfect site.
"We can do something very special to preserve the existing house. We can create the best special needs school in the south of England and it would be a wonderful site to do that."
Conan Doyle's former study will be the head teacher's office and restored to how it looked in the author's time.
The ground floor will become offices and a computer room.
On the first floor, four bedrooms will be classrooms with Conan Doyle's wife's bedroom used as the library to keep the archway feature.