Guildford pub bombings: Memorial service for 40th anniversary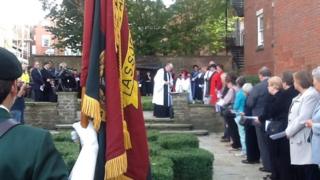 A service of commemoration has been held to mark the 40th anniversary of the Guildford pub bombings.
Five people were killed and scores more injured when the IRA detonated bombs at two pubs in the town centre on 5 October 1974.
The Horse and Groom pub in the Surrey town was targeted first, before a second bomb exploded in the nearby Seven Stars.
A plaque in Quakers' Acre names the four soldiers and a civilian who died.
They are Paul Craig, Guardsmen William Forsyth and John Hunter of the Scots Guards, and Privates Ann Hamilton and Caroline Slater of the Women's Royal Army Corps.
David Elms, the mayor of Guildford, took part in the commemoration in Quakers' Acre.
Mr Elms, who worked for Surrey Fire Brigade in the 1970s, said: "At this time our thoughts will be with those families of those that suffered not only with the loss of loved ones, but those that received injuries and had memories that are going to linger for a long, long time."
Canon Robert Cotton, the rector of the Holy Trinity Church, in Guildford, helped devise the service.
He said it was an opportunity to reflect on a "deeply difficult and divisive time", but also to look forward.
Gerry Conlon, Paddy Armstrong, Paul Hill and Carole Richardson, known as the Guildford Four, were jailed for life in 1975 for the attack on the Horse and Groom pub.
In 1989 the Court of Appeal quashed their sentences amid doubts raised about the police evidence against them.
The "Balcombe Street Gang", a four-man IRA unit, claimed responsibility but were not charged.
They received life sentences after a bombing campaign in the 1970s, but were released under the Good Friday Agreement.