Runnymede defers Royal Holloway 'masterplan' decision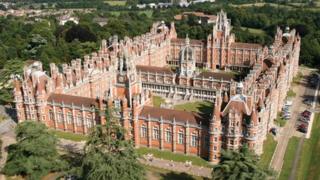 A decision on a "masterplan" put forward by Royal Holloway University for development of its Surrey campus up to 2031 has been deferred.
Under the plans, the university in Egham would demolish buildings, build new ones and create an extra 2,650 student accommodation places.
Royal Holloway needs to grow student numbers to ensure long-term financial viability, planning papers said.
Runnymede councillors deferred their decision on Wednesday.
A planning report said the outline planning application was for "a quantum of development across the whole campus", but plans for specific buildings had not yet been submitted.
The planning officer said the development could be accommodated on the site and had recommended the plans for approval.
Community 'ignored'
Royal Holloway, which is part of the University of London, said student numbers were expected to grow from 8,605 currently to 12,000 by 2031 - about 1.5% growth a year.
Plans indicate nearly 40% of the increase in floor space was to meet a current shortfall.
The proposals included changed vehicle access to the campus, a review of parking, and new pedestrian crossings on the A30.
But concerns raised during consultation included fears of local residents being ignored, the university was already too big, and Egham could lose its sense of identity with more students in the community.
The council received 115 letters raising concerns about the process, impact on the green belt, scale of the development, community impact, traffic, parking and anti-social behaviour.
But, it said the development would not result in any harm that would justify refusal.
Royal Holloway said its plans addressed a vital need to develop resources and facilities so it could maintain its reputation as a world-class university.