Zane Gbangbola: Petition calls for 'debate' on boy's flood death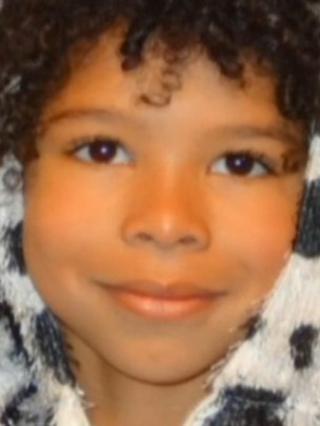 A petition calling for a "public debate" into the death of a boy during floods in Surrey has been handed to Spelthorne Borough Council.
Zane Gbangbola, seven, from Chertsey, died in February from cardiac arrest.
Tests showed he died from carbon monoxide poisoning. A petrol-driven pump was later taken from his home.
A petition, said to have 15,000 names, backs the family calls for possible hydrogen cyanide from a landfill site to be investigated.
During the the incident Zane's father Kye Gbangbola was also poisoned. He has remained paralysed from the waist down after suffering a cardiac arrest at the time.
He claims the poisoning may have come from a disused landfill site near to the home.
He said: "The purpose of the petition and its request, is for an open debate - an honest discussion as to what has happened and how we can thereafter protect the public.
"We miss Zane every moment of the day and we are broken physically.
"Our clear position is that we're not looking for compensation or blame, we're looking for organisations that are there to serve and protect the public to do their jobs in an accountable, professional and responsible manner."
Kwasi Kwarteng MP, who represents Spelthorne, has called for testing to be carried out on the landfill site.
"All we wanted was some sort of comfort about the nature of the land behind Zane's house - that's all we've asked for," he said.
"And there has been quite a bit of dragging of feet I think about this. It's a very simple ask and we haven't got anywhere with it.
"They could just test the land, it's not complicated."
A spokeswoman for Spelthorne Borough Council said the authority had "every possible sympathy" for the loss felt by the Gbangbola family.
"The answers will only be known once the inquest has been held and all the evidence has been considered and analysed," she said.
"The land near the family home has undergone some landfilling but is not contaminated and there is no evidence of risk to public health."