Runnymede's 'sandbags sold on' as Thames flooded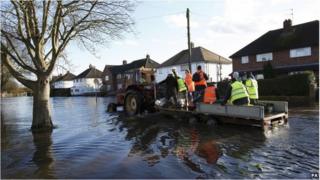 Unscrupulous people helped themselves to council sandbags and sold them on as the River Thames flooded last winter, a Runnymede council report has revealed.
Others took more than they needed after the council left bags on pallets for people to help themselves, and vulnerable people missed out.
Difficulty in meeting sandbag demand was one of the "lessons learnt", the report said.
The council has now drawn up an action plan to deal with future floods.
It compiled the report after talking to emergency services, the Environment Agency and Thames Water, and residents in flood-hit towns including Egham, Chertsey and Laleham Reach.
The report said the council was able to provide rest centres, accommodate homeless people, and assist with evacuations, but did not have the physical resources to respond to demands from the public for sandbags.
It said in attempting to distribute sandbags, time precluded delivery to individual properties and so the sandbags were out in roads.
'Lobby for defences'
But it said the council was not required to provide sandbags, which were generally ineffective, and few householders took responsibility for defending their own homes.
It also warned last winter's floods were judged to be a 1-in-20 year event, and a 1-in-100 year event would be "dramatically more widespread".
An action plan now set out by the authority includes plans for a network of voluntary flood co-ordinators who will liaise with residents and help identify where sandbags are needed.
The council said it would focus on helping vulnerable people, while encouraging others to be more resilient.
The Surrey Major Incident Plan will be updated, the council will train up key emergency personnel, and will work with the Environment Agency on how to deploy temporary flood defences.
It will also continue to lobby for flood defence funding for the £256m River Thames Scheme.