Sewage floods return to Chertsey homes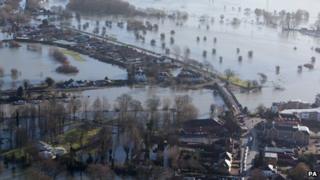 Residents have demanded action after sewage floods returned to Chertsey but have been told by the county council there are no short-term solutions.
People in Eastworth Road, near the Bourne and Thames rivers, said they had 6in (15cm) floods after a day's rain.
Gardens in the road were left awash with sewage during severe floods in Surrey last winter.
Surrey County Council said it was working on a long-term solution and short-term mitigation work continued.
Hilary Cantor, from the River Bourne Action Group, said the flooding came from surface water, the River Bourne and local sewers.
Ms Cantor, who has had to move into temporary accommodation, said: "We've been effectively told they won't do anything."
She added: "We cannot carry on day after day worrying about the rain and we haven't even started winter yet."
'Pump station coping'
Councillor John Furey, cabinet member for highways, transport and flooding, said the highway gullies drained into surface sewers which released excess water into the Bourne, but the water could not go anywhere when river levels were high.
He said problems could be alleviated if Thames Water separated the sewage and highway systems, or if the Environment Agency's £256m River Thames Scheme - a 10-year project - went ahead.
Mr Furey said council highways teams continued to support communities and gullies had been cleaned this month, but it would not solve the problem.
"This is not something that can be easily overcome," he said.
In a statement, Thames Water said it was continuing to work with the council and Environment Agency to help tackle flooding.
The company said it had cleaned sewers to keep wastewater flowing and was spending £20,000 replacing pumps - work that would be completed early next month.
Thames Water has not yet commented on the scheme proposed by Surrey County Council.