Hindhead Tunnel improves village air quality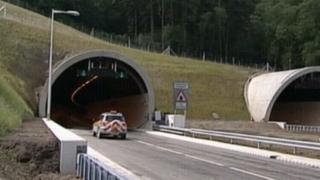 Air quality in a Surrey village now meets national standards after the construction of a tunnel on the A3.
Levels of nitrogen dioxide at Hindhead dropped below 40 micrograms per cubic metre when the tunnel opened in 2011, with a further drop to 30 in 2013.
Council leaders are also investigating whether to make Farnham town centre a low-emission zone to boost air quality.
The move would restrict vehicles from the town centre if they did not meet pollution guidelines.
Robert Knowles, leader of Waverley Borough Council, said: "Low emissions zones are seen as a cost-effective way of reducing traffic-related air pollution.
"Much of Greater London is covered by a low emission zone and as a council we are keen to see if a similar scheme on a much smaller scale in Farnham could cut air pollution."