Staines residents seek flooding compensation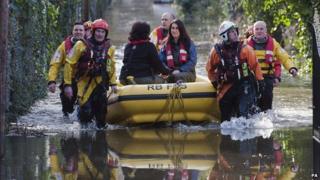 People in Staines forced to leave their homes in February when a nearby river flooded want Surrey County Council to chase Thames Water for compensation.
Residents blame the River Ash floods on a delay by Thames Water in closing a sluice gate which would have diverted the water.
They said the council should help recover costs, but it said Thames Water was the responsibility of Ofwat.
Thames Water said it was sorry people felt its actions worsened the flooding.
'Lot of frustration'
The residents say water spilled into the River Ash because a sluice gate on the Thames Water aqueduct was not closed.
They were told to evacuate their homes on 10 February but Thames Water was not ordered by Surrey "gold control" flood planning group to close the sluice gate until two days later.
Martin Cherrett, leader of the River Ash Action Group, said residents expected the county council to take a lead role in getting them compensation.
"There is a lot of frustration," he said.
"There are a lot of people still not back in their houses.
"It is by no means over as far as the local residents are concerned."
Councillor John Furey said Thames Water did not have to answer to the local authority.
"The only people who can affect their performance and the outcome of this is Ofwat," he said.
Thames Water said its teams worked tirelessly during the flooding to help residents.
"This included keeping floodwater away from nearby homes by increasing the rate at which they pumped water from the aqueduct channel out into our reservoirs," it said in a statement.
"We are genuinely sorry residents feel the decision to operate the sluice gate worsened the flooding.
"We're working alongside the Environment Agency to update our River Ash protocol and we will be sharing this with the action group."