Pirbright barracks rebuilt for Welsh Guards' arrival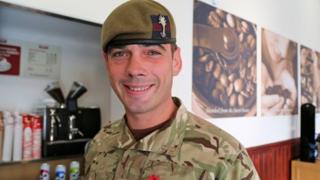 A £20m redevelopment of barracks in Surrey has been completed in preparation for the arrival of the 1st Battalion the Welsh Guards.
The Welsh Guards will officially take over Elizabeth Barracks in Pirbright on 5 December after moving from Cavalry Barracks in Hounslow, West London.
The barracks have been redeveloped as part of a wider programme of British Army restructuring.
The Ministry of Defence is relocating 20,000 soldiers by 2020.
More than 30 army units have been moving and/or changing roles within the UK this year, which will make room for personnel being withdrawn from Germany.
Some new accommodation has been built at Pirbright, while other buildings have been refurbished.
More than 400 personnel will be located at the barracks, which also have new offices, sports and welfare facilities, vehicle workshops and kitchens.
Maj Karl Dawson, of 1st Battalion the Welsh Guards, said Elizabeth Barracks had been due for demolition before the refurbishment.
"We're delighted with the results and look forward to occupying the barracks," he said.