Farnham divided by prospect of Poundland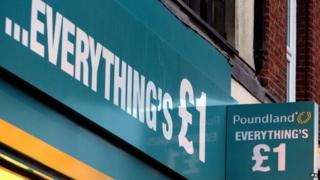 Rumours a pound store is about to open in a conservation area have divided a Surrey market town that prides itself on its range of independent shops.
Poundland is expected to open at a former Woolworths in Farnham recently vacated by an upmarket furniture store.
Andy MacLeod, vice-chairman of the Farnham Society, said the prospect had polarised opinion in the town.
Poundland said it could not disclose any information about new stores until its plans were finalised.
The premises in The Borough are being renovated after furniture shop Evitavonni closed down.
'Fairly relaxed'
Mr MacLeod said he had attended a meeting in the town on Thursday night on behalf of the Farnham Society, whose aim is to "maintain Farnham as a pleasant place to live and visit".
He said: "Half the people I spoke to thought Poundland was a good idea - much better than having an empty shop - and that it would bring a bit of employment to the town.
"The other half thought it was not the sort of shop we want in Farnham.
"I am fairly relaxed about it.
"There are much bigger issues about what's going to happen in the town with all the development that's coming and all the traffic problems."
He said that one concern was the volume of deliveries needed by a Poundland.
"They won't be doing these deliveries during the day but there's an awful lot of stuff got to come in and out of that store," he said.
Poundland said it was considering acquisition of new stores in locations that fitted its customer profile, but would not disclose further information.