Surrey recycling centres face opening cuts in £1.5m plan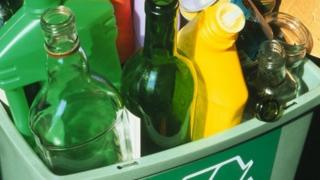 Some of Surrey's recycling centres could be closed or have their opening hours reduced in a bid by the county council to save up to £1.5 million.
Charges could also be imposed for depositing rubble, tyres and gas bottles, as part of the plans being considered by the council.
Councillor Mike Goodman, cabinet member for environment, said sites could cut opening hours "with minimal impact".
The Green Party says the council's recycling policy "isn't working".
In a report for the Tory-led council, Mr Goodman said: "There are certain times of day where visitor numbers are comparatively low.
"This means that sites could close earlier or open later, with minimal impact.
"Sites could also be closed on one day a week, with neighbouring sites closing on different days."
Recycling 'not improving'
Mr Goodman also said savings could be made by charging for commercial waste at more sites, and by selling materials either on or off-site.
He said some "inefficient" sites might be closed.
Green councillor Jonathan Essex, who represents Redhill East, said: "Over the last few years recycling rates have stopped getting better. The council has got to do something because its waste strategy isn't working.
"I think there's an opportunity for a transformation here.
"What we've heard so far is what cuts are proposed rather than what can be done to make things better."
A further report will be considered by the cabinet in February.