Newhaven pedestrian killed in lorry crash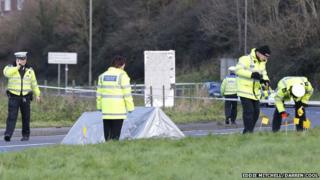 A 35-year-old man died and another man was seriously injured when a lorry hit two pedestrians in East Sussex.
The pair were struck at the junction of Avis Road and A26 New Road, South Heighton in Newhaven at 10:05 GMT.
The man who died was from Newhaven. The other pedestrian, a 65-year-old from Bishopstone, is being treated for serious injuries in hospital.
Police said the lorry was driving south along New Road when the crash happened.
Officers have appealed for anyone with information to contact Sussex Police.
The A26 and Avis Road were closed to allow the emergency services to carry out an investigation into the incident.
Sean Lapham, service centre manager at Aalco, the company that employs the lorry driver, said one of Aalco's delivery vehicles was involved in the incident.
He said: "Our first thoughts are with the two pedestrians involved and both their families.
"We are also concerned to ensure the welfare of our driver in the aftermath of this traumatic event."
Mr Lapham said the company was in communication with the various agencies involved in dealing with the incident and was offering its full cooperation.
He said: "Once we know more we will be in a position to comment further."