Defibrillator stolen from Guildford ambulance station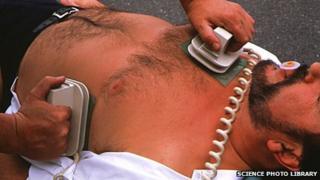 A defibrillator available for use by members of the public has been stolen from an ambulance station in Surrey.
The life-saving piece of equipment was taken from its cabinet at the site in London Road, Guildford, on Thursday.
It was stolen while South East Coast Ambulance Service crews were out attending emergency calls. Other items were also taken from the station.
Defibrillators are used to deliver a shock to restart a patient's heart when they are in cardiac arrest.
The public access machines talk the user through how they must be used with support from the ambulance control centre.
The defibrillator is worth more than £1,200.
The ambulance service has more than 1,400 public access defibrillators (PAD) across Kent, Sussex and Surrey.