Pressures on Ashford and St Peter's A&E departments ease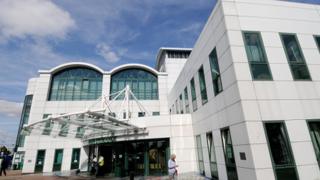 Two hospitals in Surrey that had been facing major incident status are no longer facing the same pressures as the situation in A&E units has improved.
Ashford and St Peter's Hospitals were among several across England facing high levels of demand on services.
Extra staff were called and outpatient appointments and surgery cancelled.
Ashford and St Peter's Hospitals NHS Foundation Trust said demand was still high and extra staff and resources would still be mobilised.
It has stepped down to business continuity/internal incident status which mean a number of clinicians will still be providing additional cover over the weekend.
"We continue to work closely with all our colleagues in north west Surrey on a phased recovery programme," the trust said.