Victim 'vindicated' as abuser Allan Cundick jailed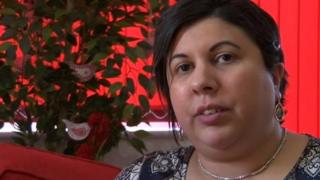 A woman who was sexually abused by a preacher in Surrey has said she has been vindicated in her battle for justice after her abuser was jailed.
Lina Barnes said she had to take on her church, another preacher who urged her not to report the crimes and Surrey Police in her fight to be believed.
Gospel Hall Brethren preacher Allan Cundick, 78, of Woking, has been jailed for four and a half years.
Ms Barnes said it had been "a difficult journey".
She was repeatedly sexually assaulted by Cundick when she was aged between 10 and 13.
But she said when she reported the abuse to the church in 2001, she was accused of being a liar, told not to talk about it, and urged to be reconciled with and merciful to her abuser.
Ms Barnes, in her 30s, has waived her right to anonymity.
"[There was] a lot of pressure from people in the church," she said.
She said she remained silenced by the church for years, until in 2011 evangelist preacher Ian Jackson revealed to her there had been another victim.
At that point she wanted to go to the police, but she said Mr Jackson tried to make her reconsider.
'Keeping it quiet'
Mr Jackson, from Eastbourne, East Sussex, later told the BBC he had only tried to help Ms Barnes and acted in good faith - Ms Barnes said it ultimately led her to take action.
"I thought about it again and actually got so totally fed up with the whole mentality of keeping it in the church, letting the church deal with it, keeping it quiet from the authorities, that I actually went to the police with resolve and determination," she said.
She still believes the church tried to cover up what happened.
"It's almost as though the church is using forgiveness as a blanket cover for what has happened," she said. "That if you can forgive your abuser as an adult for what he did to you as a child you then don't have to involve the authorities or take it any further."
Ms Barnes, from Corby, finally reported the abuse first to Northamptonshire Police in 2011 and then to the force in Surrey, but faced a further setback when Surrey Police gave Cundick a caution for indecent assault.
"It was absolutely appalling," she said. "I mean police would give a caution to somebody who shoplifts."
Ms Barnes argued the caution "belittled" the crime of child abuse and she made a complaint to the force - she later received a letter of apology from Surrey Police chief constable Lynne Owens.
In an email in September 2013, Ms Owens wrote to her: "It is important that you know we all recognise that you have been let down and the impact this is having on you."
'Moving forward'
Ms Barnes said she suffered into adulthood from the abuse, battling with recurrent nightmares and other issues.
She finally saw Cundick, of Merrivale Gardens, Goldsworth Park, convicted of indecent assault on two women in November.
And she said she finally felt her reputation had been restored.
"The most important thing for me in the whole of this scenario, in the whole of the battle for justice that I've been through, is that in the end I was vindicated," she said.
"Everything I said that he did to me he was found guilty of, nobody can call me a liar any more, nobody can argue that the abuse didn't take place. He's been found guilty in open court.
"The fact that I've been vindicated, the fact that I've been believed, the fact that I've been supported by people in court and by the judge and the jury, that's to me the most important thing.
"And that's what's enabled me to move forward."