Kingswood robber 'booted' pregnant daughter in stomach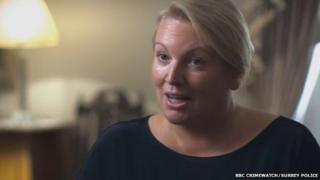 A family has described a robbery in which a woman and her pregnant daughter were attacked by an intruder at home.
Catherine Stiff and her daughters Chloe and Katie were forced to remove their jewellery in the robbery at their home in Kingswood, Surrey, on 12 November.
"He went to Katie and booted her in the side of her tummy when she was pregnant," Mrs Stiff said.
Her husband Robert told BBC Crimewatch the assault on his daughter was the most upsetting part of the robbery.
'So much sadness'
"We bought this home four years ago - what we were looking for was a real family home that we could all come into and really enjoy," he said.
"At a time when we should be celebrating, there was so much sadness in the house."
The robber, believed to have been armed with a gun, entered the house at about 17:45 GMT.
After forcing the women to remove the valuables they were wearing he made them open a safe and stole more jewellery.
"Although what happened on that night was traumatic it's the after effects of what he has left behind that's even worse," Chloe told the programme, which will screen a reconstruction of the robbery on Wednesday.
Mrs Stiff, who is in her 50s, was also punched and kicked during the robbery.
She and Katie, who is in her 20s and expecting her first child in February, were taken to hospital and treated for shock and minor injuries.
The family will appeal on Crimewatch for anyone who has information about the burglary to come forward to prevent the robber striking again.
'Family targeted'
Det Chief Insp Antony Archibald said: "This was a horrifying ordeal for the family involved; they believed they were going to come to some serious harm.
"I believe the offender will have confided in someone about the offence but he probably failed to mention that he violently assaulted a pregnant woman.
"If you are this person, please come forward and speak to us. I believe the family was specifically targeted because the burglar had very detailed demands."
Crimewatch can be seen on BBC One at 21:00 GMT on 21 January, and then on the iPlayer.