Surrey Police rule out man in Kingswood robbery inquiry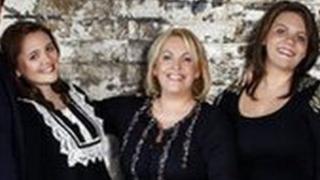 Detectives investigating a violent armed robbery in which a pregnant woman was kicked in the stomach have eliminated a man from their inquiries.
Surrey Police issued a TV appeal on Crimewatch after the raid on a family home in Kingswood, Surrey, in November.
The programme showed footage of a man at Kingswood railway station on the day of the attack.
After members of the public named him, police spoke to the man and found he was not connected to the offence.
Det Ch Insp Antony Archibald said they had "been able to eliminate him from our investigation".
Catherine Stiff and her daughters Chloe and Katie were attacked during the robbery at their home.
The man forced them to remove their jewellery and then made them open a safe where he stole more items including watches and diamond rings.
All three women, including Katie Stiff who was six months pregnant, were made to lie on the floor and kicked in the side.
There is a £60,000 reward for information leading to the arrest and conviction of the offender.