Highways Agency 'failed' over Surrey M25 pothole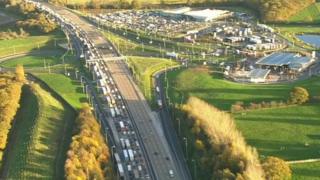 A Highways Agency chief has admitted a series of failings after a part of the M25 in Surrey collapsed last autumn.
The incident in November led to tailbacks of up to 16 miles as three motorway lanes were closed, and left vehicles with shredded tyres.
It happened after roadworks had failed to set and a large pothole appeared.
Simon Jones, regional director, said the agency made the wrong decision to allow traffic on the road, and failed to get contractors back quickly.
He also said information the agency provided to the public on the day was not good enough.
"From my perspective, and the Highways Agency, it's a big apology and it's something that we're working on not to happen again," he said.
'Concrete too wet'
Mr Jones said roadworks had been carried out overnight using "rapid-curing concrete" - a method that he said had been used over 200 times previously.
He said part of the road would have needed to be closed for 200 to 250 days if the work had been carried out in a traditional way.
"On that day, it looked, it felt, it seemed to be in the right area for us to be able to get the traffic running on it," he said.
"But because of the weather conditions and the concrete not curing and too wet, it ultimately was found to be the wrong decision."
Mr Jones said there needed to be a more rigorous return to road surface review.
He said another failing was that crews had left the site before the road collapsed, and getting the vehicles back on site "became a problem".
"The biggest criticism that I take to heart [was] that the information we provided on that day probably wasn't good enough to allow alternative plans," he added.
And he said contractors who worked on the initial roadworks would pay a penalty of about £360,000 for the delays caused.
Flights missed
A pothole the width of a lane appeared during heavy rain on the anti-clockwise carriageway near Leatherhead at about 05:30 GMT on 14 November.
Lane closures were brought in and thousands were caught up in travel chaos, with people missing flights from Gatwick Airport, and motorway coach services suspended.
The AA said the incident placed many drivers in danger and called for an inquiry.
The motorway fully reopened at about 04:00 the following day.