Father demands truth over Zane Gbangbola flood death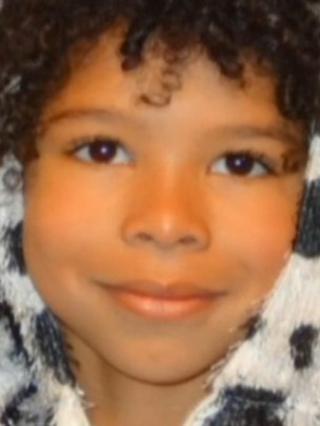 The father of a boy who died during Surrey floods a year ago has called for him to be honoured with "the truth".
Zane Gbangbola, seven, died in the early hours of 9 February 2014 in an incident in his house in Chertsey.
Post-mortem tests were inconclusive and a pathologist later said Zane died from carbon monoxide poisoning.
But his parents say he was killed by hydrogen cyanide fumes from floodwater from the lake next to their home which built over a former landfill site.
In an interview with BBC Surrey, Kye Gbangbola, who was left paralysed by the same incident that killed his son, said he is still unable to talk about the moment when he became aware of his son's condition.
He said: "All I can remember is being thrown back on to the bed."
He attributes that moment to the impact of the gas that he believes entered the house.
"The rest of it is just too horrendous to discuss," he said. "I came to in hospital having come out of cardiac arrest."
'Still barred from house'
He said the loss of his son had been unbearable and he and Zane's mother Nicole Lawler had spent a year campaigning for the truth when they should have been grieving for their son.
An inquest had still not been held and the case remained with the coroner, he added.
"You ask what we would want. Let history honour Zane, and all those people who are part of the campaign, with truth."
He said the family missed Zane, with tears, every moment of the day.
"Our time with Zane was certainly the best seven years of our lives," he said.
A memorial service took place on Sunday outside the family home in Thameside, where the family have still not been allowed back in.
Zane's parents held a minute's silence before setting off fireworks.
More than 17,400 people have signed a petition to demand answers over Zane's death.